Exploring the Future of Open Scholarship
Tento seminář už sice nestihnete, ale jestli máte zájem o podobný,
dejte nám vědět
!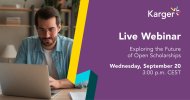 | | |
| --- | --- |
| Kdy: | 20. 9. 2023, 15:00 – 16:00 |
| Vložné: | zdarma, nutná registrace |
Join us for the free webinar "Exploring the Future of Open Scholarship: Current Practices, Trends, and Inspirations in Academic Institutions" to explore the importance of open access in academia.
Esteemed speakers from European academic and research institutions will share insights on the challenges and opportunities of open scholarship and innovative approaches that their institutions have experimented with to enhance research dissemination:
Frederick Flagg / Open Research Specialist, Aston University
Niklas Willén / License Manager / Bibsam Consortium, National Library of Sweden
Paola Galimberti / Director of Performance, Quality Assurance, Evaluation and Open Science Policies, Università degli Studi di Milano
In this session, we will approach a variety of topics, including:
Challenges faced during the implementation of and compliance with Open Access policies at institutional and consortium level
Best practices and lessons learned in local faculty and researcher engagement
Supporting faculty compliance: new resources, ongoing support, and the identification of areas for improvement in open access policies
Discussing the national-level approaches to funding open access
Exploring the dual role of funding agencies in supporting local open access initiatives, promoting equitable access to knowledge, and addressing global equity issues.
We are looking forward to your participation in this webinar. We invite librarians to pre-submit questions they might have to our speakers: https://ow.ly/HQOV50PAG20
Kontaktujte nás
Albertina icome Praha s.r.o.
,
Štěpánská 16

,

110 00

Praha 1
tel.:
222 231 212
e-mail:
aip@aip.cz