Writing your paper or thesis: academic language tips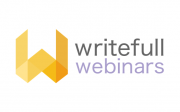 | | |
| --- | --- |
| Kdy: | 10. 2. 2022, 10:00 – 10:45 |
| Vložné: | zdarma, nutná registrace |
Vyberte si termín a zaregistrujte se na webinář:
Join this live webinar to get practical language tips for writing your next paper, your thesis, or other academic text!
We'll share language do's and don'ts: common errors to avoid, phrases to use, and other insights that will help you write a solid text. We'll use a data-driven approach by looking at examples and patterns from real publications.
Used by students, researchers, institutions, and publishers around the world, Writefull is the new generation of academic writing help. Using big data and Artificial Intelligence, Writefull boosts efficiency and accuracy in writing. It provides automated revision of texts, as well as a database of published papers to explore real-world examples and patterns of language use.
The webinar will be in English.
You can register even if you're unable to attend, the webinar will be recorded and you will get the link to the recording afterwards.
Kontaktujte nás
Albertina icome Praha s.r.o.
,
Štěpánská 16

,

110 00

Praha 1
tel.:
222 231 212
e-mail:
aip@aip.cz