Úvod » Semináře » From the Great Resignation to the Great Reset: Libraries Preparing Academics for What's Next in the Job Market
From the Great Resignation to the Great Reset: Libraries Preparing Academics for What's Next in the Job Market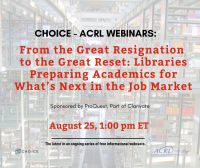 | | |
| --- | --- |
| Kdy: | 25. 8. 2022, 19:00 – 20:00 |
| Vložné: | zdarma, nutná registrace |
Students are looking at entering the workforce differently today. The possibility of facing an ultra-competitive job market makes having the right business and technology tools that much more critical. Our panel of library experts will walk through what they are doing to support students and faculty during these transformational times.
Join us for a discussion on preparing NextGen workers for the real world and learn how O'Reilly for Higher Education can help students expand their skill set, prepare for technical certifications, and stand apart from the competition.
Speakers:
Hans Baierl (Library Services Coordinator) / Moraine Park Technical College
Adrian Graham (eResources Librarian, Associate Professor) / Austin Community College
David Rachlin (STEM/Research Data Librarian, Assistant Professor) / North Carolina Agricultural and Technical State University
Organizováno pod hlavičkou CHOICE, za podpory ProQuest, Part of Clarivate. Webinář bude v angličtině online přímo ve vašem internetovém prohlížeči a pro přenos zvuku stačí, abyste měli k počítači připojeny reproduktory nebo sluchátka.
Kontaktujte nás
Albertina icome Praha s.r.o.
,
Štěpánská 16

,

110 00

Praha 1
tel.:
222 231 212
e-mail:
aip@aip.cz