Alexander Street, Part of Clarivate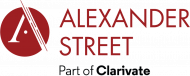 Alexander Street vydává online rozsáhlé digitální sbírky video a audio nahrávek, notových zápisů a plných textů primárních pramenů zejména pro humanitní a sociální vědy. Kolekce pokrývají stále větší spektrum oborů, včetně hudby, poradenství a terapie, ošetřovatelství, antropologie, ženských, minoritních a genderových studií, Afriky a Africké diaspory, trestního práva, stomatologie, sociálních a kulturních dějin, literatury, dramy, divadla a filmu, religionistiky a dalších.
Od svého začátku v roku 2000 Alexander Street vytváří kolekce, které obsahují kvalitní materiály chráněné autorským právem a dříve nepublikované. Každá databáze je indexovaná jedinečným Semantic Indexing™, které poskytuje vědcům, vysokoškolským učitelům a studentům precizní vyhledávací nástroj a prostor pro analýzu nalezených materiálů.
Společnost Alexander Street získala vynikající reputaci vč. ocenění za "Best New Product," "Best Content" a "Best Contract Options" od The Charleston Advisor, "Product of the Month" od History News Network a dále vynikající recenze v odborných knihovnických časopisech.
Od června 2016 je součástí společnosti ProQuest. Od prosince 2021 se Alexander Street i ProQuest stali součástí Clarivate.
Kontaktujte nás
Albertina icome Praha s.r.o.
,
Štěpánská 16

,

110 00

Praha 1
tel.:
222 231 212
e-mail:
aip@aip.cz